Our Pastor
About Us
Ministries
Sermons
Education
Donation
Our Pastor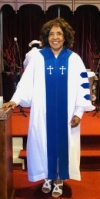 Faith Journey and Call to Ministry
Brief Bio
After an American Baptist ordination in 2001, Cynthia L. Smothers graduated from Palmer Theological Seminary (formerly Eastern Baptist Theological Seminary) with a Doctorate in Renewal of the Church for Mission degree in June 2006.
The Renewal of Corporate Prayer Amongst Church Leaders
as my project paper.
She was first trained in Interim Ministry in 1999 and began serving as an interim pastor in 2002. In 2011, Rev. Dr. Cynthia L. Smothers was certified as an Intentional Interim Minister by The American Baptist Churches of Massachusetts. After training with the National Interim Ministry Network in Baltimore, MD, she became certified in 2012 as an intentional interim minister. Through the Interim Ministry Network, she became designated as a Professional Transitional Specialist in 2014.
Dr. Smothers brings the gifts of guiding congregations through an intentional interim process as preparation for calling a settled pastor. These three questions are explored: Who are We, Who is our Neighbor, and What is God Calling us to Do? This includes teaching/workshop presentations, guiding prayer, spiritual direction, leading Bible study, listening and preaching into Christian ministry. My vision of hope for churches is that they will grow spiritually as well as build positive relationships within and without the congregation. She is currently the intentional interim pastor of Second Free Will Baptist Church in Providence, RI.
Her husband, Walter, has a Providence College B.A. Degree in Pastoral Ministry; preaches and has conducted a nursing home ministry for over ten years. In addition, ministering to our family is also a priority.
IN ALL OF THE ABOVE, ONLY GOD GETS THE GLORY! clsmothers@cox.net