Our Pastor
About Us
Ministries
Sermons
Education
Donation
Our Pastor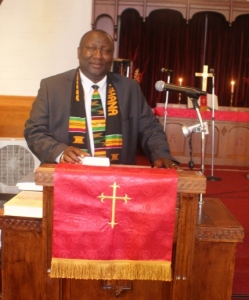 A CALL TO MINISTRY AND BRIEF BIOGRAPHY

Pastor Moore received his elementary, secondary, and senior high education from the Suehn Industrial Academy (A National Baptist Co-educational Mission School in Liberia, West Africa). The National Baptist Mission, USA Incorporated and headquartered at the Baptist World Center in Nashville, Tennessee.
While on Suehn, he began his early pulpit preaching in 1981 preaching full sermon on Children/Youth Sundays up to his graduation in 1983 from high school when he earned his High School Diploma with honor. He wrote his own sermons. He was greatly admired by the faculty, missionaries and students. Everyone knew he is a great speaker, preacher, teacher and therefore, appreciated his young, gifted talents and skills. He was encouraged to continue in ministry, which he did.
Pastor Moore holds a BA Degree in Political Science from Rhode Island College and MA Degree in Theology from Providence College, respectively.
Pastor Moore has been licensed by Second Free Will Baptist Church since September 28, 2008, to preach the Gospel of Jesus Christ. A call he has been committed and dedicated to ever since.
Pastor Moore, served as Interim Pastor of Second Free Will Baptist Church from February 2021 to January 2014. He served with distinction and servanthood with vision, love and care for the entire congregation and their respective families. He showed what it meant to be a real humble and caring servant of God.
Pastor Moore, believes in God the Father, God the Son & God the Holy Spirit, the Holy Bible and Grace. He believes in love as ordained by God and exhibited in Jesus Christ, Mercy, and justice according to God's will and respect for the human race. He believes in hard-work, dignity of labor and mirage of one-man to one-wife. He believes in the unity of mankind in love, forgiveness, and reconciliation always.
Loving God with all your heart, mind, strength, and soul. Love your fellow man as yourself. Do unto others and you would like them to do unto you. Go through the gates, gather up the stones, cast out the highways and lift up a standard for the people. AMEN!
"O give thanks unto the LORD, for he is good: for his mercy endureth forever."